-
Storyboards.
Von Hitchcock bis Spielberg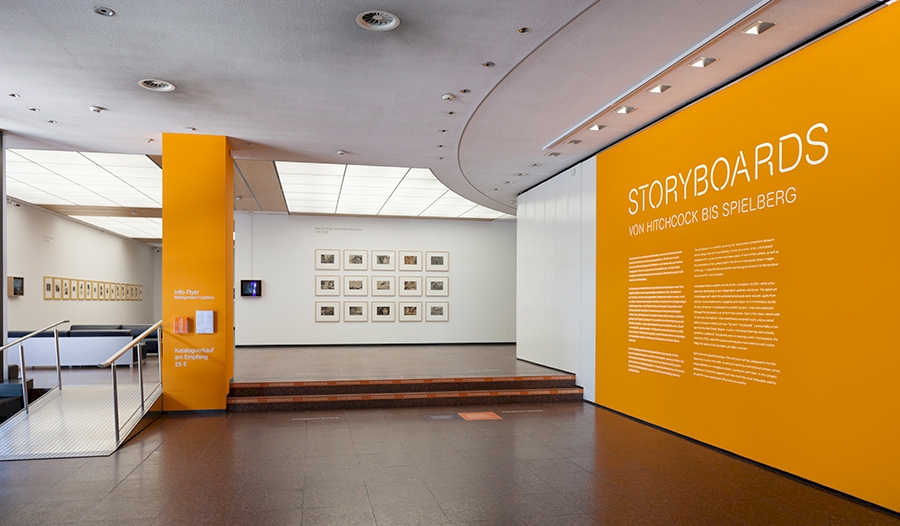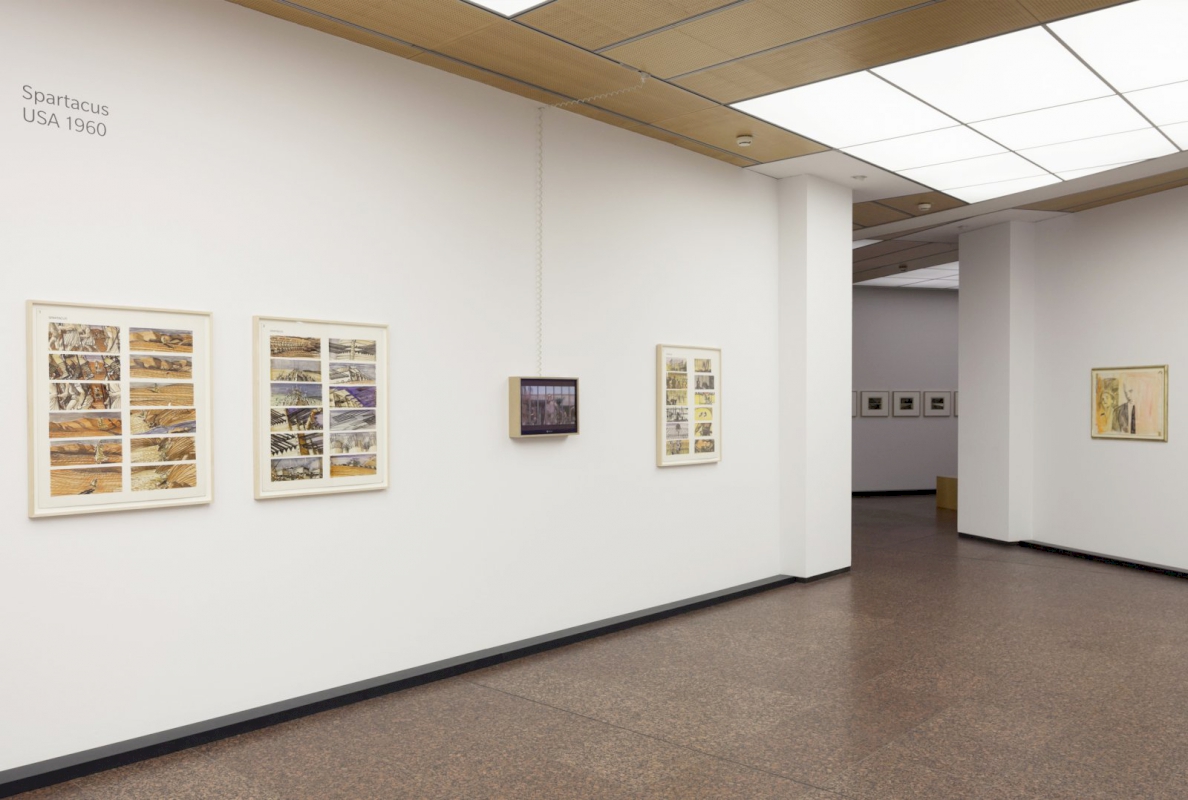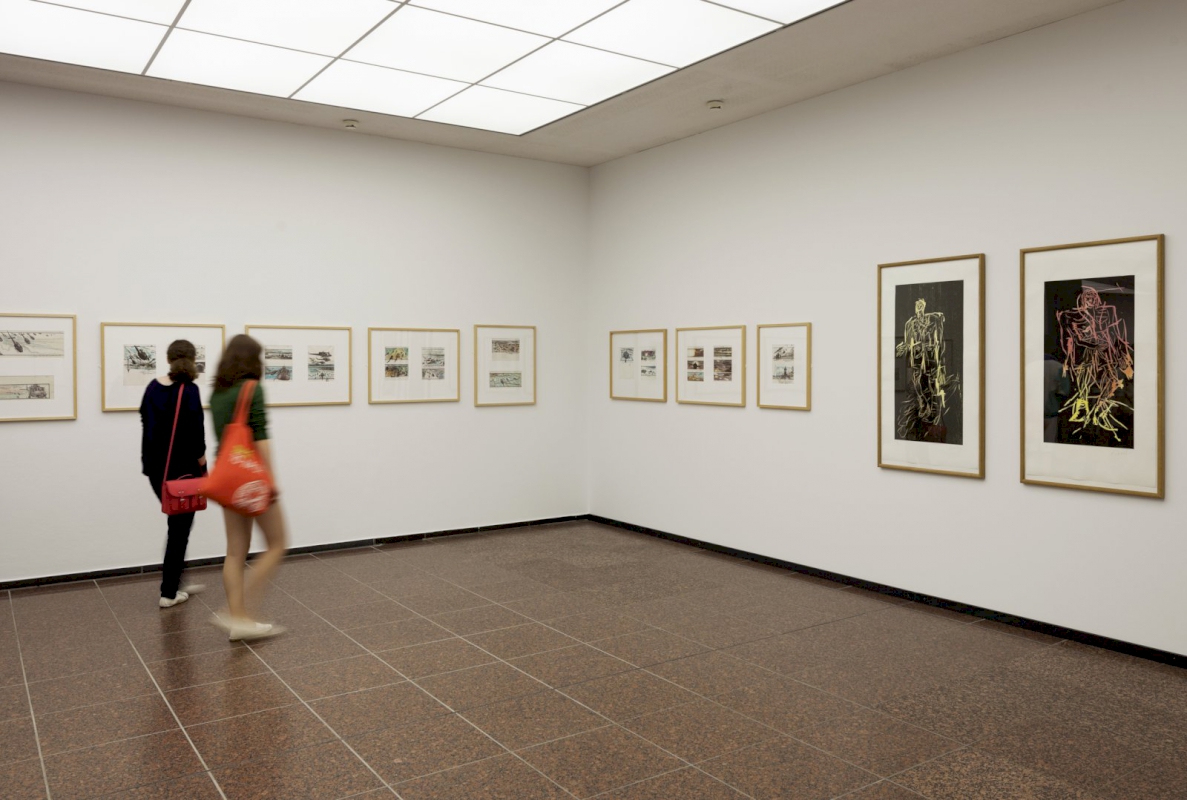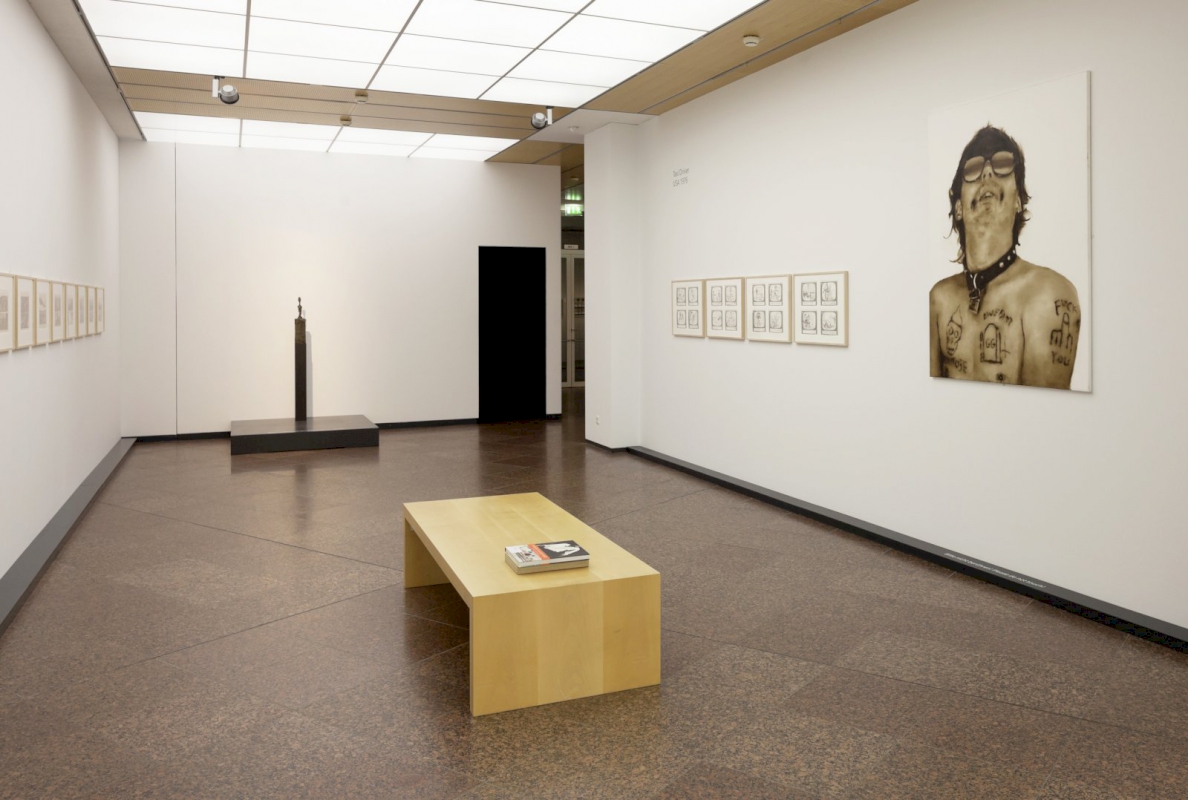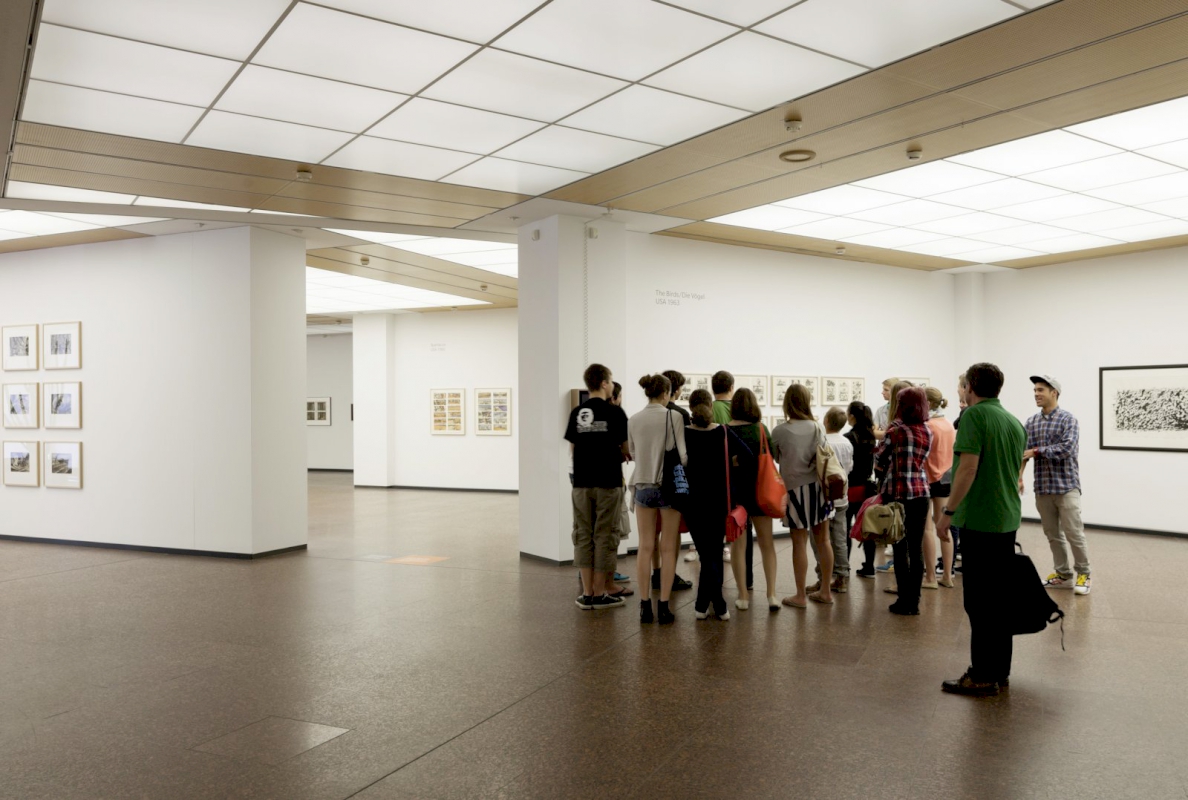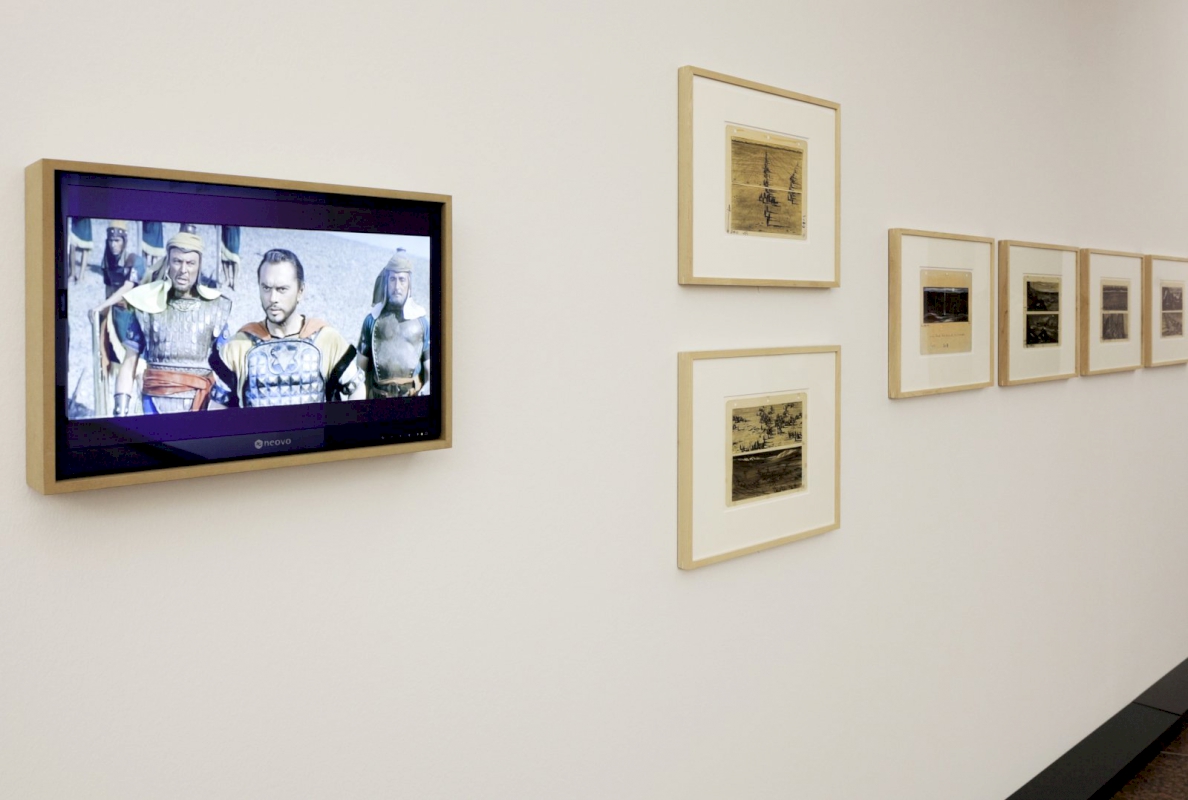 Storyboards aid the visualization of cinematic movement long before actual shooting begins. Both shot sequences and camera movement can be sketched in a fashion very similar to a comic strip. On the one hand, the storyboard gives insight into the artistic concept of a film, and on the other, it develops its own independent aesthetic appeal. Although, as an art form, the storyboard has much in common with classical freehand drawing and its centuries-old tradition, it has, until now, remained almost undiscovered by museums.
The Kunstfoyer der Versicherungskammer Bayern now presents the exhibition STORYBOARDS, which was conceived by the Museum für Film und Fernsehen in cooperation with the Kunsthalle Emden. It is comprised of storyboards from 20 style-defining movies of the last 80 years – all of which are gems from famous film archives and are very seldom exhibited. The spectrum ranges from delicate, monochrome works in graphite and felt pen, as in the case of Martin Scorsese's TAXI DRIVER (USA, 1976), to powerfully colorful executions in colored pencil, chalk, or water colors as used in movies such as George Lucas´ STAR WARS (USA, 1977) or Francis Ford Coppola's APOCALYPSE NOW (USA, 1979).
The drawings are juxtaposed with the corresponding original movie sequences and works of international artists selected in an associative manner: these include works by Katsushika Hokusai, Konrad Klapheck, Tony Oursler, Alexander Calder, Georg Baselitz, Andy Warhol, and others. The juxtaposition with visual artworks illustrates just how much the visual language of the fine arts and the cinema inspire and influence one another.
Motion Picture Storyboards
Das Schiff der verlorenen Menschen. Director: Maurice Tourneur, Germany, 1929
Snow White and the Seven Dwarfs. Director: David D. Hand, USA, 1937
Fantasia. Directors: James Algar and Samuel Armstrong, USA, 1940
Gone with the Wind. Director: Victor Fleming, USA, 1939
Man Hunt. Director: Fritz Lang, USA, 1941
Spellbound. Director: Alfred Hitchcock, USA, 1945
The Red Shoes. Directors: Michael Powell and Emeric Pressburger, Great Britain, 1948
Solomon and Sheba. Director: King Vidor, USA, 1959
Spartacus. Director: Stanley Kubrick, USA, 1960
The Birds. Director: Alfred Hitchcock, USA, 1963
Who´s Afraid of Virginia Woolf? Director: Mike Nichols, USA, 1966
Taxi Driver. Director: Martin Scorsese, USA, 1976
L´Homme qui aimait les femmes. Director: François Truffaut, France, 1977
Star Wars. Director: George Lucas, USA, 1977
Apocalypse Now. Director: Francis Ford Coppola, USA, 1979
Indiana Jones. Director: Steven Spielberg, USA, 1981
Hammet. Director: Wim Wenders, USA, 1982
L´Amant. Director: Jean-Jacques Annaud, France/Great Britain/VN 1992
A.I. – Artificial Intelligence. Director: Steven Spielberg, USA, 2001
Panic Room. Director: David Fincher, USA, 2002
The Artists
Georg Baselitz / Alexander Calder / Marcel van Eeden / Max Ernst / Lucio Fontana / Alberto Giacometti / Katsushika Hokusai / Michelle Jezierski / Konrad Klapheck / Henri Michaux / Tony Oursler / Andy Warhol / Tom Wesselman / Florian Süssmayr
Lenders to the Exhibition
Deutsche Kinemathek - Museum für Film und Fernsehen, Berlin / Walt Disney Animation Research Library, Walt Disney Animation Studios, Burbank, California / Harry Ransom Center, The University of Texas at Austin / The Academy of Motion Picture Arts and Sciences, Margaret Herrick Library, Academy Foundation, Beverly Hills / Lucasfilm Ltd.& TM., San Francisco / Martin Scorsese Collection, New York / American Zoetrope Films, San Francisco / British Film Institute, BFI National Archive, London / Stanley Kubrick Archive, The University of Arts London / Collection Cinémathèque française, Paris / Maxime Rebière c/o Hapax, Paris / Museum Morsbroich, Leverkusen / Michelle Jezierski, Berlin / Munich Leadership Group, Munich / Bayerische Staatsbibliothek, Munich, Department of Manuscripts / Sammlung Helmut Klewan, Munich / Sammlung Goetz, Munich / Courtesy Galerie Sabine Knust, Munich / Courtesy Galerie Fred Jahn, Munich / Courtesy Galerie Marie-José van de Loo, Munich / Courtesy Galerie Haas Berlin u. Zürich / Sammlung Claus von der Osten, Hamburg
Companion Book
STORYBOARDS. ZWISCHEN FILM UND KUNST
Hrsg. von Katharina Henkel im Auftrag der Stiftung Eske Nannen und Schenkung Otto van de Loo und Kristina Jaspers und Peter Mänz für die Kinemathek – Museum für Film und Fernsehen.
© 2011/2012 Kunsthalle Emden, Deutsche Kinemathek – Museum für Film und Fernsehen, Berlin
Curators
Katharina Henkel, Peter Mänz, and Kristina Jaspers